Buying a Used SUV? Consider These Pre-Owned Hondas
Our Blog
Jun 24th, 2022
Most of us know the joys and stressors of buying a car all too well. Countless hours scrolling through websites to find the perfect match, a car that's just right for you.
When a car is used, you also want to make sure that it's in great condition, and that it will live up to your expectations no matter how many kilometers there are on the odometer.
At Ottawa Honda, we believe it's our responsibility to make sure that your used vehicle purchase is always as enjoyable as possible. We want it to be an enjoyable and memorable experience, not something that feels like a chore.
By choosing a pre-owned Honda for your used SUV purchase, we help you find a match that is right in your budget and in a better condition than all the other cars you might have already glanced over. Each and every pre-owned Honda that we have at our dealership gets certified by our Honda-trained mechanics, and they come with a comprehensive Carfax report to disclose any accidents, damages or recalls.
That being said, if you are wondering which Pre-Owned Honda SUV you should consider, we've come up with a selection that is bound to catch your eye!
Honda CR-V
A staple in the Honda lineup is the beloved Honda CR-V. The Honda CR-V has been a top-rated family pick for more than a decade, providing them with the convenience, comfort and capability they need for all their daily activities.
While the CR-V comes standard with front-wheel drive, we get countless all-wheel drive trims available at our dealership for those of you who like the added traction in the winter months, or for your outdoor adventures.
The CR-V combines the nimbleness of the Civic and the size of the pilot making it one of the most favourite SUVs amongst Canadians. If you were thinking of purchasing a used Honda CR-V, we'd be happy to show you the available Pre-Owned Honda CR-V's at our dealership.
Honda HR-V
The Honda HR-V has been a fan favourite since its launch in 2016, for good reason. While it is the smallest SUV in Honda's used lineup, the HR-V is safe, reliable and features a completely unique design. The HR-V comes in both FWD and AWD options which allows you to choose what's best for your lifestyle.
Although this subcompact SUV is the smallest of used Honda SUVs, there is ample room inside the cabin providing a both beautiful and practical space for daily driving and those weekend getaways!
Combine this with its outstanding fuel economy and low maintenance cost, this makes the Honda HR-V a popular choice amongst Canadians looking for a vehicle that is smaller, but still extremely convenient. If the Honda HR-V is a vehicle you can see yourself cruising in, have a look at what our Used Honda HR-V Inventory has to offer.
Honda Pilot
Honda Pilots have been on the frontline leading the way for safety, capability and design within the automotive industry. If the HR-V and CR-V seemed a bit too small for you, this could be the perfect match.
Because of its larger cabin size and refined interior, it provides families with a touch of luxury and incredible comfort no matter what their destination may be. This SUV size comes in handy if you have a large family, it can seat up to 8 passengers in most models, with the exception of the Pilot Black Edition which offers 7 seats instead. Despite its size, the Honda Pilot is quite fuel efficient, which is perfect for you, whether you need to drive down the street, or across the country.
If you and your family are looking for a car that provides ample amount of interior space while not compromising in terms of style and driveability, then we recommend the Honda Pilot. We just may have a few Used Honda Pilots available, check out our used inventory.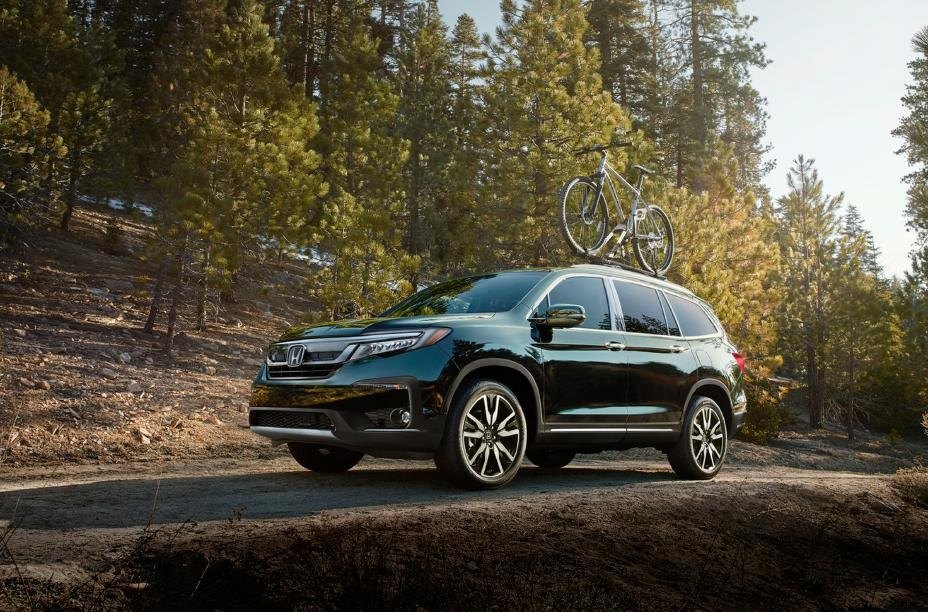 Honda Passport
For some people, the CR-V and HR-V may seem too small, and the Pilot too big. It's all personal preference, which is why it's important that you consider all the options.
That's where the Honda Passport comes in. It's not too big, not too small, but just right. Sitting somewhere between the Honda CR-V and the Honda Pilot, the Passport takes the best of both models and combines it into one.
Although the Passport is a 5 seater SUV, it is slightly longer than the CR-V, which gives you extra cargo space, interior space and cabin comfort for those long drives.
As for engine performance and towing capabilities, the Passport shares the same specifications as the Pilot. However, the Passport is much lighter, which improves braking. Like every Honda, the Passport is extremely safe and stylish, a perfect fit for both families and solo drivers. Looking for a Passport? Check out our Inventory of Used Honda SUV's to see what's available in Ottawa.
Which Honda Should You Choose?
Honda vehicles have been a staple for Canadians for generations – for great reason! The models we've listed above have some key differences that may help you select the car best fit for you.
In terms of size, the Pilot has the largest cabin space therefore is best fit for larger families, however the Passport is a great car for those looking for larger cabin space without the additional seating.
In terms of affordability, the HR-V is the most affordable with the CR-V closely following.
Not sure what to choose? Get in touch with our team at Ottawa Honda, we will be happy to help you decide based on your needs and budget.
Reach out to us here at Ottawa Honda, or visit our pre-owned inventory to see our collection of available pre-owned vehicles.