How to Get Your Honda Ready for Winter
Our Blog
Oct 21th, 2022
October is here and with the pumpkins and orange leaves comes an unfortunate reminder: winter is coming. Winter, especially those experienced in Ottawa, is not only harsh for people but cars as well. Salt gets tracked everywhere, wheels slip and slide, and it seems like you need to brush off the car on the daily basis.
Thankfully, there are some quick things you can do to prepare for winter. These tips will help your car survive winter's challenges and prepare you for any adverse situation.
Whether you're driving a Civic, Ridgeline, or CR-V, you can rely on your Honda to get you through our toughest season with a priority on comfort and convenience.
Prepare an Emergency Kit
Emergency kits are compact and uncomplicated bags that contain everything you need to make it through an unforeseen winter accident such as driving into a ditch in the middle of nowhere and getting into an accident. A further reason why we consider emergency kits a necessity is because of Ottawa's proximity to dense forests, making it easy to have an accident on a back road without an easy way to call for help.
Emergency kit essentials include:
Non-perishable food
Water
A first aid kit
A wind-up flashlight
Maps
A whistle
A blanket
Jumper cables
Sand
Honda's lineup of vehicles all possess large trunks, so you shouldn't have an issue fitting everything into the trunk.
Inspect and Swap Your Honda's Tires
This might come as a shock: all-season tires aren't good enough to perform well in winter. You may have noticed an abnormal amount of slipping if you've driven on all-season tires during winter in Ottawa. Typically, these tires lose traction at 7°C.
An additional risk to your Honda are tires that have been excessively worn down. Tires won't have any traction on the snow if the treads are too worn down which can lead to dangerous driving conditions in winter.
We recommend you swap your non-winter tires for tires that are purpose-built for winter. We don't get a little snow in Ottawa – we get a lot of snow – and it's imperative to your safety that your car can get the traction it needs to keep you on the road. Wondering where to go for your winter tire swap? Visit your local Honda dealer for more information.
Service Your Car's Battery, Oil, and Fluids
We've all been there before – getting in the car at seven in the morning and discovering your car's battery has succumbed to the weather. Car batteries are susceptible to the weather and will eventually weaken or break if exposed for too long.
A car battery can be expected to last for five years on average in Ottawa's weather, so make sure to have it inspected in intervals of one to three years. There's no such thing as being too prepared! The jumper cables from your emergency kit will prove useful if you experience issues despite preparation.
Engines, similarly to batteries, are at risk in harsh weather conditions. Get your car's oil changed before winter begins and have the shop inspect the coolant system as well. A cracked hose can prevent it from operating correctly and puts your engine at risk of breaking.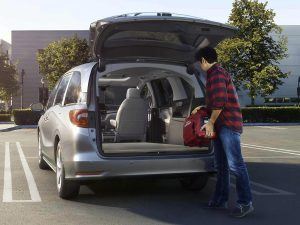 Ottawa Honda – Vehicles Built to Beat the Weather
Contact Ottawa Honda today to secure a winter-ready vehicle just in time for this year's season. As Ottawa's leading Honda car dealership, we're intimately familiar with the potential damage Ottawa's harsh winters can inflict on your car. Rest assured that we're equipped to help you with any problem you may have during the winter season and beyond.
A Honda vehicle serviced by an authorized Honda dealership is prepared to withstand everything from ice storms to blizzards. Visit our dealership and test drive your new winter warrior!